CALL NOW for a Quote! (888)607-0002
---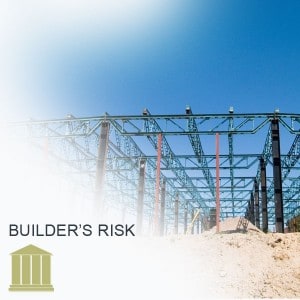 Builders' risk insurance is an insurance policy written and designed specifically to protect and insure a building which is proposed for, or presently under, construction.
Builders' risk insurance may cover any structure and/or materials on the insured building site, some materials on site waiting to be installed or transported to said site. Most builder risk insurance will have an agreed upon coverage limit assessed by the projected value, or construction budget, of the project, including but not limited to, building, materials, equipment, and labor costs needed to build the proposed construction.
Most builders' risk policies are term limited policies, that is, policies which have set term limits set at the time of purchase.  Most builders' risk insurance policies will provide coverage for terms of, three, six, or twelve month increments.  If the insured project requires additional time for completion and the project supersedes the original agreed policy coverage, the policy can be extended, but in most cases policies are limited to a one time extension. After the first extension if additional coverage is needed or the second term has expired a new policy must be newly assessed, written and agreed on by both the builder and the insurance agency.
Most builders' risk insurance policies are all-risk polices and no-fault, this protect the project against all types of damages regardless of fault.  This is to insure builders and construction projects are covered against all types of casualty loss.  The policy ownership should be secured by the project owner or the project contractor.  If the contractor is responsible for insuring the project the cost of insurance should be included in the project price, and the bid document should accurately reflect price of insuring.
The covered parties listed as insured on any builder's risk policy should include, the project owner, architect, contractor, and all subcontractors.  The policy should specify and limit all interests specifically as they pertain to each listed party.  In order to respond to any claims regardless of fault and to protect the project, all builders' risk policies should  be written as a no fault policy.  The policy limit should reflect the value of the completed construction project.
In case of a claim against the policy the deductible should be the responsibility of the policy holder, typically the project owner. If the owner would like to stipulate the responsibility of the deductible to be transferred to the contractor, the contractor should include the deductible in the projects bid.  The policy should be attained before the construction has begun, but in some cases builders' risk insurance can be purchased after construction has already begun.
Standard coverage's in a builders' risk policy should include:
All risk policy, including but not limited to: theft, vandalism, malicious mischief, collapse, windstorm, false work, testing and start-up, temporary buildings and debris removal, demolition and replacement occasioned by enforcement of any applicable legal requirements, compensation for architect's and contractor's services and expenses required as a result of such insured loss

Flood

Earthquakes (this is a common exclusion)

Terrorism

Mold and/or fungus

Temporary storage and in-transit materials and should cover portions of the work stored offsite and in transit.

Bodily injury

Lightning

Hail

Explosions

Vehicles and aircraft
CALL NOW for a Quote! (888)607-0002